Prenuptial & Postnuptial Agreements
Prenuptial and Postnuptial Agreements
​Prenuptial and Postnuptial agreements accomplish the same goal but are just entered into at different times; before and after marriage. Both agreements alleviate conflict during divorce or death of one of the parties. Couples create prenuptial and postnuptial agreements to protect their assets by providing certainty in distributing assets in the case of divorce. Prenuptial and Postnuptial agreements also protect the property rights of children from a previous marriage or relationship upon death of the parent.
Prenuptial agreements are valid at the time of marriage. No marriage, no agreement.
Postnuptial agreements are valid after the marriage.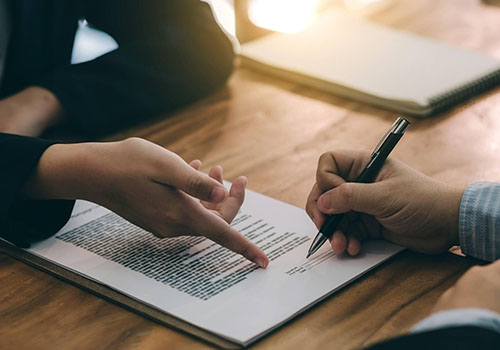 An attorney will prepare the prenuptial or postnuptial agreement on behalf of one spouse or fiancée. Since the attorney can only represent one party, the other spouse or fiancée should hire a separate attorney to review the agreement and ensure that he or she understands the terms.
​During the process, the couple must provide a full financial disclosure including tax returns, retirement accounts, bank account numbers, real estate value, vehicle value and any other asset or liability that is relevant to their specific agreement. A Schedule of Assets and Liabilities is included in the prenuptial or postnuptial agreement.
Couples can customize the prenuptial or postnuptial agreement to reflect their wishes with very few restrictions. Although reflective of the parties' wishes, a prenuptial or postnuptial agreement cannot violate the law or public policy. Parties cannot agree to waive child support obligations for children of the relationship or marriage. Children have the right to child support and obligations are established by the courts using child support guidelines.
Couples can agree to waive alimony; however, the courts may not honor the request based on certain factors at the time of divorce.
Courts typically enforce most prenuptial or postnuptial agreements unless one party can prove that he or she entered into the agreement under duress or fraud. The burden of proof is high, but it can be done.
Finally, any modification to a prenuptial or postnuptial agreement must be made in writing and signed by both parties.
Contact Akilah Harris, Esq. to assist in preparing your prenuptial or postnuptial agreement. Akilah Harris, PLLC, is conveniently located in Broward County, Florida.
Fort Lauderdale
Pembroke Pines
Hollywood
Miramar
Coral Springs
Pompano Beach
Davie
Sunrise
Plantation
Deerfield Beach
Lauderhill
Weston
Tamarac
I ​Successfully Represent Clients in South Florida
Help Begins With An Initial Consultation
To discuss your case with me and find out how I can help, contact me today at (954) 451-0050 or by email. Evening and weekend appointments are available upon request. My fees are meant to be affordable. Payment plans are available if there are no court dates scheduled. Credit and debit cards are accepted.